The other day, I found a candle holder at Salvation Army for $2.99. I liked the shape - but not the green sponge paint (why am I always drawn to green sponge paint? Remember
what my buffet lamps looked like when I bought them
?)
I wanted to do something really fun with it. And after I found this pedestal bowl on ZGallerie, I knew just what I wanted to do.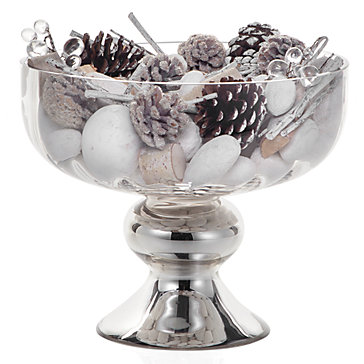 Yup, that's right, I'm knocking it off. This bowl would set me back $34.95. I wanted to get the look for less. So, I grabbed some Rustoleum Chrome spray paint and gave the candle holder a few light coats.
Then, I found a glass bowl at Christmas Tree Shops for $4.99.
I glued the bowl on with my E-6000 adhesive -
To give it a little holiday flair, I filled it with silver ornaments that I found on clearance at the dollar store - 25 cents a box!
Here's a before and after -
Actually, I like my pedestal bowl more than the ZGallerie version - it's much taller! And I love the price -
$2.99 - candle holder
$4.99 - bowl
$4.19 - spray paint (I have a lot left over)
$.75 - ornaments
Total - $12.92 - and that includes the filler!